By Dr Philip Simpson
Waiharakeke is the name of a coastal swamp and the stream that drains the bush-clad hills between Tōtaranui and Awapoto.
It was a Māori settlement and became an important milling community, owing to the kahikatea that was common throughout the lower valley.
Harakeke (flax) was important to Māori everywhere for its long, strong fibres, which were used for clothing, weaving and rope. One variety of harakeke, named wharanui, is a very large-leaved form that was used for the making of fishing nets because the long leaves reduced the number of joins.
In general the harakeke in the park wetlands is relativeiy small, probably because the swamps are acidic and low in nutrients. At Waiharakeke, however, in addition to typical park flax, there are also very large forms.
Waiharakeke is quite a common place name – given, for instance, to the swamp on which Blenhiem was eventually built. There is a place near Seddon named Wharanui, and large flaxes well-known to local Māori weavers are still a feature in the lower Wairau. Some of the Māori who lived at Waiharakeke, and worked in the sawmill, came from the Blenheim area, suggesting that there was a history of travel between the two places.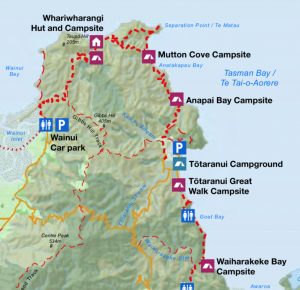 Waiharakeke Stream lies south of Tōtaranui
It seems highly likely that the unusually large flax was bought from Waiharakeke in the Wairau for use in making kupenga, the seasonal fishing nets used along this piece of coast. So Waiharakeke as a place name in the park may have been brought with the people and the flax.