Being an Abel Tasman Youth Ambassador is providing opportunities beyond the Abel Tasman National Park for avid bird watcher and photographer Bradley Shields.
Bradley is a Youth Ambassador from Golden Bay High School and in late 2019 he spent a week helping DOC undertake research on endangered native swamp birds at Lake Ellesmere near Christchurch.
"Along with three other researchers we waded through waist high mud, kayaked in gale force winds and crept through towering beds of raupo to monitor elusive and endangered birds such as Australasian bittern, marsh crake and spotless crake," says Bradley.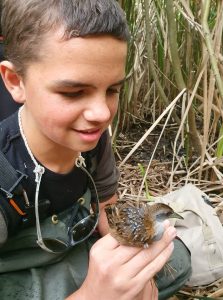 The team was able to catch a rare marsh crake and attach a temporary transmitter to the bird. "This will aid in a study on the natural movements of marsh crake as well as fill in some huge knowledge gaps about this species. I hope it will help put a real focus on wetland restoration and how we can save these precious birds," he says. 
Bradley is an enthusiastic ambassador in the Abel Tasman, and in 2019 he led an
Ecoblitz at Golden Bay High School's adopted site at Hadfield's Clearing. In a first for the Abel Tasman, the students collected and analyzed data about the flora and fauna which will be repeated over time.
Project Janszoon education coordinator Brooke Turner says while ATYA usually looks to link students with opportunities in the park, Bradley is not your average student.
"Bradley has joined us with a particular passion for birds and photography. He has come into the project so capable, already monitoring birds in the park and across the Tasman region and attending the Birds New Zealand Youth Camp. We were trying to find opportunities to take him to the next level," she says.
"It was a thrilling and amazing 10 days and a huge thanks to Project Janszoon and DOC for giving me the opportunity," says Bradley.