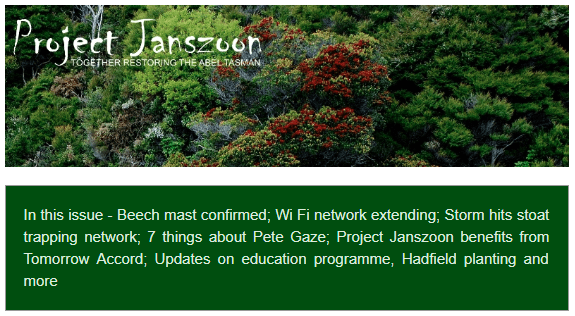 Beech mast confirmed
Monitoring of beech seed has confirmed a widespread beech mast in the Abel Tasman in 2014 with evidence showing rat numbers have increased in response to the abundant food supply.
Over the last few months DOC has been monitoring beech seed fall in the Abel Tasman and counting the seeds. They have found high or very heavy seed falls and predict that rodent and stoat populations will impact on native birds.
DOC's Chris Golding says a lot of seeds came down in the April storms and both silver and red beech seed numbers are over the trigger level to undertake aerial pest control.
"The abundant food supply means rodent numbers will increase to an extent that would overwhelm the stoat trapping network and other ground methods. Timely aerial pest control will allow native birds to nest and fledge successfully," he says.
Project Janszoon Director Devon McLean says in response to the beech mast Project Janszoon and DOC will undertake an aerial 1080 pest control operation some time between mid July and the end of August depending on favourable weather.
"Aerial 1080 pest control enables a rapid response. It reduces pest numbers to extremely low densities and is needed to supplement other pest control like our extensive stoat trapping network and ground control operations," he says.
The operation will aerially apply cereal baits containing biodegradable 1080 pesticide over approximately 12,359 ha of Abel Tasman National Park. The toxic bait will be sown at a rate of 2 kg/ha—the equivalent of around 5 baits across an area the size of a tennis court.
The Abel Tasman Coast Track and 100 metres either side of the track, huts and campsites are excluded from the aerial bait distribution. The aerial pest control will also not include any part of the Canaan Downs–Takaka Valley area or the Marahau Valley.
The operation will be undertaken under stringent procedures to manage public safety and environmental risk. However Devon says dog owners should be particularly vigilant. "Dogs are highly susceptible to 1080 and the risk to dogs from poisoned possum carcasses will remain until the carcasses have rotted," he says.
Adjoining landowners and concessionaires will be notified of the 1080 bait application before it takes place. Warning signs will be erected at access points and high public-use sites. For more information click here or visit the DOC Motueka office.