Observing pollution in China and Europe first hand has prompted the 2020 recipient of the Project Janszoon Conservation Education Scholarship to study for a degree in Marine Biology.
19-year-old Hana Mason-Williams will use the $1,000 scholarship towards gaining her National Certificate in Diving which is part of the New Zealand Diploma in Environmental Management that she is currently studying at Toi-Ohomai Institute of Technology in the Bay of Plenty. She then plans to study for a degree in Marine Biology. Hana attended Golden Bay High School and was the Manawhenua ki Mohua and Onetahua Marae Abel Tasman Youth Ambassador (ATYA) representative in 2016.
She says being part of ATYA prompted her to plan pathways for her future and travel on a four-month overseas holiday to China and Europe which was an eye-opener.
"Even in some small towns in Switzerland where it seemed so clean, there would be rubbish floating down rivers where we would be swimming. Being in China was a complete shock as I had never experienced such bad air pollution. It made me realise how lucky I am to have grown up in New Zealand where it's clean, unpopulated and green. I never want New Zealand to become like the rest of the world and I want to help in any way I can," she says.
This is the second year of the scholarship which was launched for students involved in ATYA and Project Janszoon and DOC's education programme to further their learning in the conservation, ecology or leadership fields.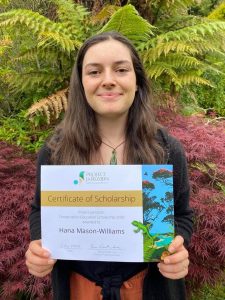 ATYA iwi representative Beverley Purdie says Hana's experience with the Project Janszoon's  Student Advisory Group (as ATYA was known in 2016) provided the avenues and opportunities for her to learn new skills and knowledge as she grew in confidence as a leader.
"I believe Hana's family, her outdoor experiences and her involvement in the youth advisory group gave her the strength and the confidence to go overseas. Everything came together and the love of the environment and the experiences she had with Project Janszoon came right to the front of her thinking and allowed her to follow her dream," says Bev.
Abel Tasman Youth Ambassadors are chosen from schools who are part of the Project Janszoon / Department of Conservation education programme.  Currently Motueka High School, Golden Bay High School, Motupipi Primary School, Lower Moutere School and Ngatimoti School are involved.
"These students are the future champions of the park. It is wonderful to see how Hana plans to use the scholarship in the field of marine environment," says Project Janszoon's Education coordinator Brooke Turner.
Hana says she doesn't have a specific career path in mind but wants to utilise the skills and experience she gains to help New Zealand's marine environment  and contribute to iwi and their marine business operations.
The Abel Tasman Youth Ambassadors and education programme is also supported by Abel Tasman Sea Shuttle which provides transport into the park for the students.