Conservation in the Abel Tasman National Park is taking to the sky, with an eye catching depiction of the park proving to be a talking point for people flying around Nelson / Tasman.
One of Helicopters Nelson's chopper pods, has recently been adorned with stunning photos of the conservation work happening in the Abel Tasman.
Project Janszoon Director Bruce Vander Lee says the idea of decorating the pod came about after a conversation with Helicopters Nelson pilot Toby Reid who had just flown some rare whio into the park to be released in the Wainui River.
"We thought it would be a great way of bringing the restoration work going on in the park to the attention of a wider audience. The images are triggering conversations with people about how they can contribute to conservation in the Abel Tasman National Park and throughout New Zealand," says Bruce.
The pod wrap highlighs stunning images of the Abel Tasman and native birds like kākā and pāteke/brown teal which have been returned to the park by Project Janszoon and the Department of Conservation. It was designed by local Motueka company Image Creators.
Toby says the eye-catching design is certainly getting clients attention. "Having these amazing pictures of the park and its native species is an easy way for our pilots to begin to tell the wider story of conservation in this region. People definitely show an interest and for some it does have a real impact, they begin to understand there are a whole lot of people doing a whole lot of work behind the scenes to preserve our natural heritage," he says.
Helicopters Nelson often work with Project Janszoon and DOC to fly rare native species including pāteke, kākā and kākāriki to release sites in the Abel Tasman.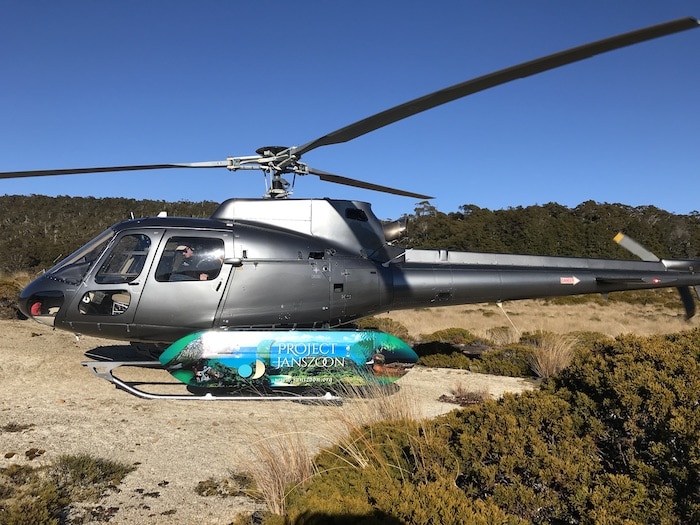 The chopper at Moa Park. photo Fay Mackenzie