The ability to evaluate how well predator control is performing is an important aspect of the work we are doing to improve biodiversity in the Abel Tasman National Park.
The use of latest technology plays a big part in our work and we are currently working on two evaluation tools; acoustic monitoring of native bird populations and using motion cameras to ensure the stoat trapping network is performing as efficiently as possible.
Optimising the stoat trapping network
We know how many stoats we catch (1,760 at last count) but how many do we miss? Over the last year we have had 50 motion-activated cameras, 10 of which have been funded by Air New Zealand, regularly out around the park. Stoats are lured to the camera site using a piece of cloth from the beds of captive ferrets, which has been found to be a very attractive lure.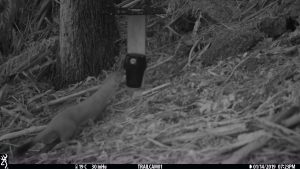 The camera takes a photo when it detects movement and once the cameras are retrieved comes the unenviable task of going through the images. Thanks to DOC rangers and Abel Tasman Birdsong Trust volunteers for doing this. They are getting very good at identification.
The reason we want this information is while we know our stoat trapping network is highly effective as species like pāteke are thriving we want to look at ways we can make it more efficient.
By optimising the network we hope to be able to deliver the same results for less cost. This could mean traps are cleared more regularly at some times of year, and less regularly at others. In collaboration with DOC and Manaaki Whenua we hope to develop a predictive model.
The motion cameras are part of this work, as well as trap performance data and rat tracking data. Science advisor Ruth Bollongino is bringing all this information and data together. "We are using the camera monitoring to establish a baseline of how many stoats we leave behind. Once we start to optimise the network we can use the cameras to see how those numbers change. We definitely don't want optimisation to result in more stoats," she says. 
This work will be valuable for other projects and we plan to share the learnings nationally once we have an effective, proven model.
Acoustic monitoring
In the past we have used five minute bird counts to gauge the abundance of native birds in the park but there are many variables involved in this way of monitoring.
Currently we are evaluating the possibility of using acoustic recorders to monitor for us. Last spring acoustic recorders were placed at 120 sample points throughout the park. It is a time when birds are very vocal. 30 of these recorders were funded by Air New Zealand for use in the north of the park.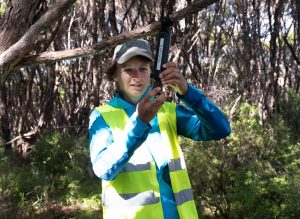 Ruth is now working with the AviaNZ project, a collaboration between mathematicians, date scientists, and conservation biologists, to 'teach' a computer programme to identify the particular bird calls.
We have chosen five indicator bird species that will help us judge how effective the predator control is in keeping birds safe. These are kākā, kākāriki, toutouwai/robin, tītīpounamu/rifleman and pīpipi/brown creeper.
"It takes a long time but I have help from AviaNZ and Victoria University. We need to identify the birds, and then develop filters so the birds can be automatically identified," says Ruth.
We also undertook five minute bird counts in spring and Ruth says it is encouraging to see that preliminary results show the acoustic recorders have replicated these findings.
Thanks to Ruth coordinating the project and DOC staff from Motueka and Takaka, Abel Tasman Birdsong Trust volunteers for helping deploy and collect the monitors, and Wilsons Abel Tasman and Abel Tasman Sea Shuttle for transport.
Here's a couple of examples of some of the recordings.
Kākā
Kākā and ruru