In New Zealand, it's a chance for us to celebrate the role of our hard-working rangers do across Aotearoa.
Motueka's Kristiane Ellery has been a DOC ranger for just over a year. We talked to her about what a typical workday looks like, and why she finds the role so fulfilling.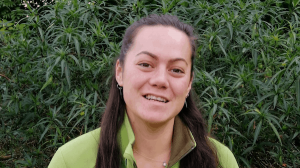 What training did you undertake to become a ranger?
I graduated from NMIT's Trainee Ranger programme in 2017. It took a year to complete, and four months of that was made up of a paid placement. Luckily enough, I got mine here with Project Janszoon, working in the Abel Tasman. It's pretty sought-after here in Motueka – everyone wants to be here and no one wants to leave, so I was pretty stoked.
What does a typical day look like?
I might catch a boat out to the Abel Taman and do a trap line. Once a month we do overnighters where we fly up and do trap checks or rat monitoring in the heart of the park.
Over summer we do more weed control in places like Awaroa and Totaranui looking for common weeds like Japanese honeysuckle, old man's beard, banana passionfruit and tradescantia, to name a few. Mostly it's solo work out in the bush, but there are times where you deal with the public if you're walking down the coastal line.
What successes have you been particularly proud to be a part of?
Seeing the difference in the Abel Tasman with the birdlife and number of birds we're reintroducing into the park like the pateke and whio. Our weed control projects can be really rewarding too, when we revisit the sites and I think, wow, we've smashed back all that.
What makes the job tough?
Climbing hills every day for a week can be a bit hard on the body! And we're out there in all weather, rain or shine.
Do you find the public supportive?
Yes, I do. I haven't come across any negativity. I still walk around the supermarket in my uniform!
Out there in the park, you see people who are doing their own bit towards conservation, picking up litter for example, and the water taxis and shuttles are always supportive. People are usually pretty happy to put their hands up to volunteer too.
What's the best thing about the role?
I always wanted a job where I made a difference. Helping the people and the ngahere (forest) of New Zealand – this job covers both those points and I feel I can make a difference, slowly but surely.
That quote from the Lorax is one I stand by: "Unless someone like you cares a whole awful lot, nothing is going to get better. It's not."
We're contributing towards a greater New Zealand, eventually.