A collaborative project with Golden Bay landowners is seeing feral goat numbers drastically reduce around the park's halo.
Project Janszoon is funding the Department of Conservation to undertake feral goat control on private land surrounding the park as part of a multi-year trial. Feral goats eat most native plants, destroying anything within their reach and eating young seedlings, effectively stopping forest regeneration.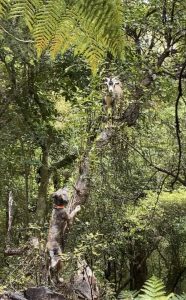 DOC biodiversity ranger Amanda Harvey says two rangers have culled over 826 feral goats from the park halo since November 2019 using a combination of ground and aerial hunting. "It's the first time we've done such a large control programme and it's getting much harder to see feral goats now. We used to see mobs of 40-50, now we are seeing ones and twos," she says.
Project Janszoon director Bruce Vander Lee says landowners have been really supportive and as more are hearing about the trial they are keen to get involved.
"We are delighted at the support and success. We are working with a view that the national park and its surrounds are one, as pests don't pay attention to borders. Taking out so many feral goats benefits everyone and we should start seeing the impacts on the forest understory in the next few years," he says.
The feral goat control began in East Takaka as that is a hotspot for feral goats. The plan is to keep the pressure on and move north over the next few years. Amanda says the team is doing a great job. "It's easy country for feral goats but not for hunters and dogs, it's pretty gnarly out there, and they are doing an awesome job".