We are delighted to announce Ihaka Griffith has been awarded the first Project Janszoon conservation education scholarship. Ihaka is Onetahua marae's Abel Tasman Youth Ambassador representative and goes to Golden Bay High School. He was recently awarded the $1,000 scholarship at an assembly at the high school.
The scholarship was launched last year for students to further their learning in the conservation, ecology or leadership fields. Ihaka, who is still at school, plans to use the funds to "further my knowledge and understanding of how ecology and engineering/technology can work together to enhance conservation in Aotearoa".

Project Janszoon Director Bruce Vander Lee says Ihaka is a perfect fit as the first recipient of the scholarship. "He has demonstrated outstanding leadership growth over the last three years representing Project Janszoon, DOC, Golden Bay High School and Onetahua Marae. His interest in conservation issues and his ability to come up with ideas on how to solve the conservation challenges ahead show us his promise," says Bruce.
The scholarship will provide an opportunity for Ihaka to investigate how technology can aid sustainable conservation. He plans to visit Project Janszoon's fellow project, Zero Invasive Predators (ZIP), a research and development agency looking at ways to enable a predator free New Zealand. ZIP work with engineers in Lincoln at its predator behaviour research facility and then undertakes field trials at sites around New Zealand.
Ihaka says being awarded the scholarship has shown him his effort is being recognised. "I have a huge feeling that my years of education, meeting people, time with Project Janzoon and the Abel Tasman Youth Ambassadors, is building me, piece by piece, into a giant spring loaded catapult which will launch me to places and events where I can use this knowledge to at least make a sizeable dent in what plagues my country and my world."

Golden Bay High School principal Linda Tame says Ihaka is a worthy recipient of the scholarship. "We have seen Ihaka really grow as a fine young Māori man and leader. It is fantastic to see him get this opportunity. He is passionate about Project Janszoon and the environment," she says.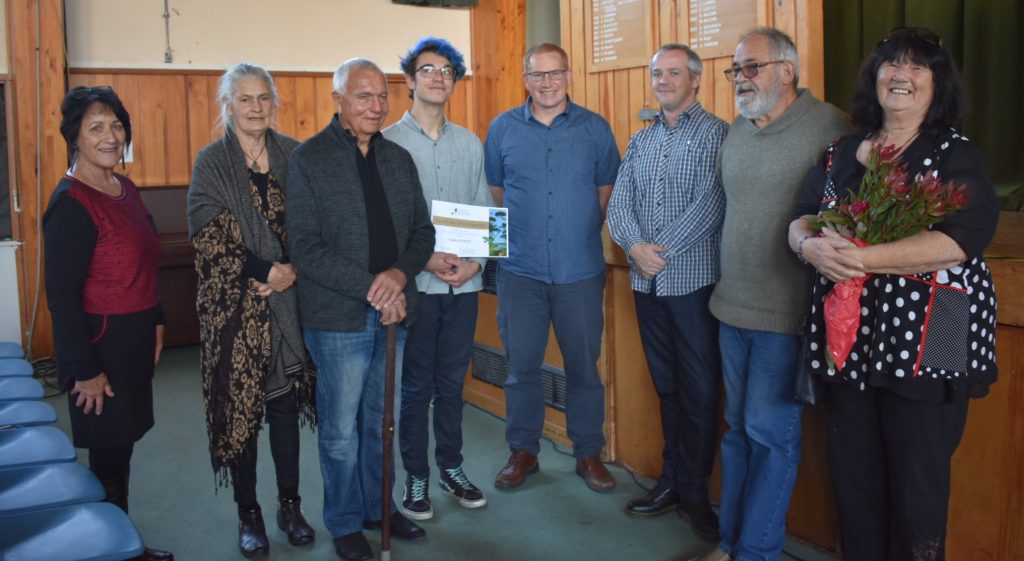 From left to right. Margie Little, Chrissy Griffith, John Ward-Holmes, Ihaka Griffith, Bruce Vander Lee, Mark Mackenzie, Robyn Slow and Bev Purdie