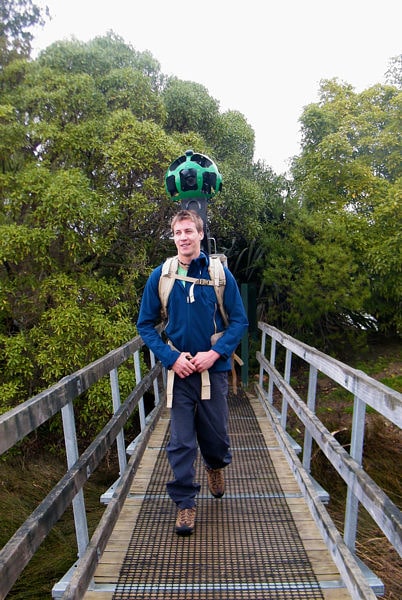 Today, Google Street View goes off-road on the Abel Tasman Coast Track before continuing onwards to the Heaphy Track. The Department of Conservation (DOC) is very pleased to be working with Google to bring the Great Walks to life on the web.
"This is the first time this technology has been seen in New Zealand and DOC is really pleased to welcome Google Street View and the Street View Trekker on the Abel Tasman Coast Track," says Rudy Tetteroo, DOC's Programme Manager. "With its great views and easy accessibility the Abel Tasman National Park is a great place for them to start."
"The nine Great Walks host some of the most spectacular views in New Zealand. We're delighted to be able to help the Department of Conversation share them with the rest of the world by using Trekker, our latest Street View technology," says Nabil Naghdy, Google Maps Product Manager, Google New Zealand.
The Trekker is Google's newest Street View camera platform; an 18-kilogram backpack equipped with 15 five-megapixel cameras that gather images as it goes. The camera system is specially designed to capture imagery in remote places or places only accessible on foot.
Since it's launch in 2012, Google has taken Trekker to several natural wonders around the world, such as Grand Canyon, the Galapagos Islands and most recently, Mount Fuji. Google has also taken Street View underwater to capture 360-degree panoramic imagery of delicate ocean environments in Australia, the Philippines and Hawaii.
For Project Janszoon, the privately funded trust working with DOC to restore the ecology of the Abel Tasman National Park, the Google Trekker imagery will be a great benchmark for its work.
"Project Janszoon is at the start of a 30-year restoration project and over the years Google Trekker will provide a visual benchmark of how our work is enhancing the park's ecology. While nothing beats walking the track yourself, it is great to see technology making it more accessible for people to plan their trips and become aware of the park's spectacular natural environment," says Director Devon McLean.