By Dr Philip Simpson
Totaranui is one of the most famous places in the park and is known around the world for its beautiful beach and rustic no-frills campground.
Totaranui means big or many totara, one of the best known and important trees in New Zealand, renowned for its huge size and its superb timber that is esteemed by both Māori and Europeans for its durability.  The name conjures up a sense of strength and although very few landscapes are named Totaranui, it has become a favourite name of properties, farms, houses, and businesses.
The original name of Queen Charlotte Sound was Totaranui. There are records of large trees nearby but some iwi representatives believe the name reflects the shape of the sound, or carries a metaphoric meaning relating to travel.  When the Ngati Tumatakokiri were forced to leave Totaranui in the Sounds, they settled briefly where the second Totaranui now stands, and it is possible that they brought the important name with them. 
Lowland totara is actually a very rare tree in most parts of the park. It requires fertile soil and hence can be prominent where limestone occurs, such as at the Abel Tasman Memorial. But soil formed by granite is acidic and low in nutrients. It is more suited to Halls totara which is widespread in the park especially at higher levels. 
Only a handful of lowland totara are known on granite. In the vicinity of Totaranui only two are known. One, a small tree, grows on the coastal rock at Skinner Point. Another, much larger, now a shattered log at the base of a slip, was exposed briefly by the storm of 2012. Both of these trees are males, so there must be, or have been, a female nearby.
It is quite possible that in times past more trees were scattered through the rata forest. Some may have been logged by early European settlers for fencing, for instance at Awaroa.  No buried totara logs have been found in the Totaranui estuary. The only other examples are at Totara Rocks north of Torrent Bay where a single male struggles for survival, and Honeymoon Bay north of Kaiteriteri.
Perrine Moncrieff recalled a "huge" totara at the mouth of the Falls River, probably a lowland totara, based on this description, but it has now gone. There is a large tree on a granite slope at Wainui, outside the park.  Another possibility, because the Skinner Point tree is clearly visible, is that Totaranui was so-named by European settlers as the name appears late on maps, but settlers did not usually give places Māori names.
One of the tangata whenua from Mohua/Golden Bay, John Mitchell, recalls as a boy his Dad took him hunting up the ridge at the Totaranui / Awaroa turn-off and they saw a large totara there.  Sure enough, although it is now dead a huge single totara is there.  This is further evidence that Totaranui is named after the few large totara trees scattered through the forests of the Park.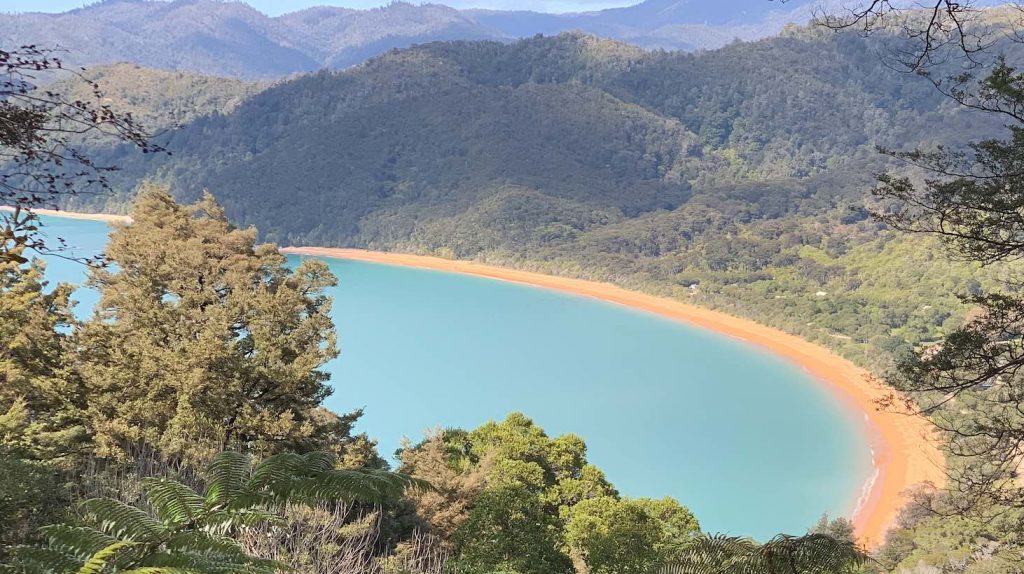 Photo Robyn Janes
Dr Philip Simpson is the author of Down the Bay – A natural and cultural history of Abel Tasman National Park. It is available at all good book stores.