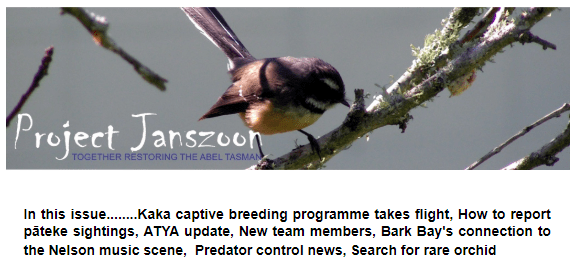 Boost for kaka captive breeding programme
The arrival of three juvenile female kaka has given DOC and Project Janszoon's kaka captive breeding programme at Natureland Zoo a fantastic boost.

The two sisters from Dunedin and another bird from Invercargill are currently in quarantine at Natureland. They will join four other birds next month, including three males that were taken from wild nests at Nelson Lakes in early 2016.

"This is the beginning of a reinvigoration of the captive breeding population in the top of the South Island. With three new females we can potentially create three breeding pairs and breeding could start as early as next year," says Project Janszoon's aviculturist Rosemary Vander Lee.

A desire to release more birds with northern South Island genes led to the set up of our kaka captive breeding programme last year. The three new females are descended from a male kaka from Nelson Lakes.

The plan is to harvest more chicks from Nelson Lakes and the Wangapeka in Kahurangi National Park to further boost the breeding population and strengthen its genetic resilience. Last year six females in the Wangapeka were captured and fitted with transmitters so that any nests can be found if they breed.

Stoat trapping has helped protect a small population of kaka at Nelson Lakes. The Wangapeka kaka population is recovering rapidly following several years of stoat trapping and the aerial application of 1080. Four captive bred females have already been released into the Abel Tasman to join the few remaining wild male kaka. The captive breeding programme will allow us to release more kaka into an area of the Park which has extensive predator control.