This month the Abel Tasman Youth Ambassadors from Motueka High School got to present the results from their research of Anchorage lagoon to the New Zealand Freshwater Sciences Society. The ATYA students presented the results from the water logger they installed at Anchorage with the help of DOC's Dr Hugh Robertson.
Here's a few reflections on the day, and the research from Ambassador Thomas Schwarzenbach.
"Overall it was a really good day. At Anchorage we all took turns talking about our Adopt a Section site. Saskia did a traditional welcome, Lottie spoke about who we are and our site, Moeka talked about the dune restoration and how it was affected by the cyclones, Millan talked about the beech tree trails for managing hakea and I talked about the water level logger.
In terms of the water level data, the beginning data showed a lot of change in level as the lagoon was open to the sea. The level evened out when it was closed to the sea. We saw a similar result with temperatures; when open to the sea the temperature changed a lot, when the tide was out the temperature increased and when the tide was in the temperature dropped. When the lagoon was closed the temperature was steady and cold.
I was a bit nervous speaking to the crowd but once I was finished I felt good.
After the talk we took the scientists on a tour around the lagoon. There was great feedback from the scientists about what we could do next like monitoring what fish are there, finding the source of the water for the lagoon and more salinity monitoring. I like the idea of fish monitoring, to find out what type we have. It would be interesting to find out whether the types of fish change when it's at the saltwater stage (when open to sea) or fresh stage.
It was such a cool opportunity and so useful. We got a chance to meet a lot of people and hear what they think of our project. They had interesting perspectives and it was interesting to hear about the variety of work they do. It also showed us different job prospects. The attendees were happy to see young people out there trying to help out with conservation."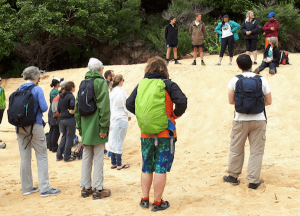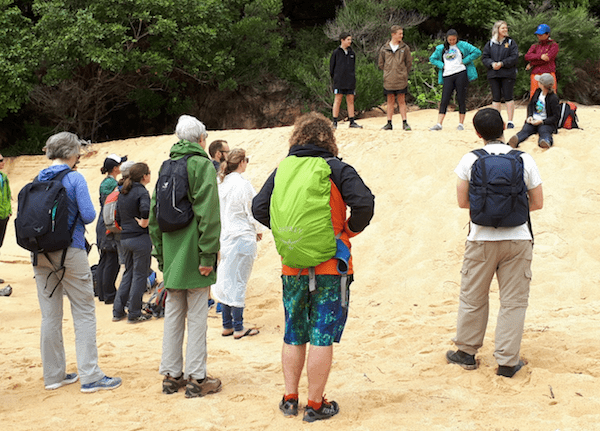 The team talking to the scientists