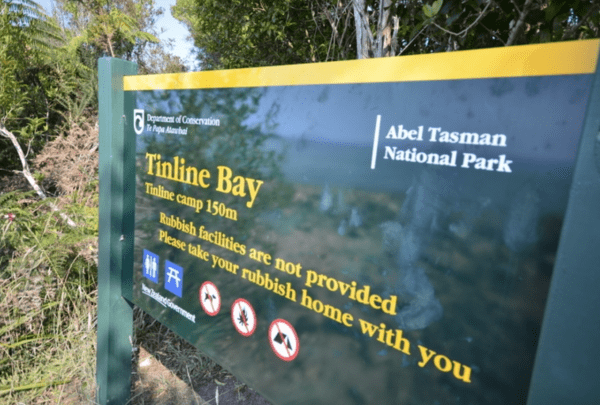 Tinline Stream is named after a prominent and nationally important local citizen, John Tinline. The name was formalised by the New Zealand Geographic Board in 1968. It is the first substantial stream from the southern entrance to the Park and remains a popular picnic ground just an hour along the Coast Track with a lovely forest remnant walk.
The prominent point above Tinline Bay is the site of a former pa that was occupied when D'Urville visited and anchored in 1827 – just a decade short of 200 years ago! Today the pa site is clothed in bracken and regenerating bush, but then it was an open lookout over the southern part of Tasman Bay.
The stream flows from an inland high point (679m) and near the coast it creates a fertile flat that was once farmed by settlers including  Tinline.  It was then subdivided and holiday baches were built. Although the baches have now gone, the plants that grew around them remain: privet, cotoneaster and watsonia among them.
John Tinline himself was a much respected pioneer in Nelson, nick-named 'Old Fizzlebilly' because of his flowing beard. A bachelor, he devoted himself to government service, farming and philanthropy, more or less in that order. His government roles stemmed from his training as a lawyer before he migrated from Scotland in 1839. He lived in Nelson and shared accommodation with a young Maori from whom he learnt Maori language, and this ability led him, in 1844, to a position of Interpreter for the Nelson Magistrate under which native affairs were managed, including the purchase of Maori land and the identification of land reserves.
Known as a fair man he served in the Provincial Government. During this time he explored parts of Nelson, and Tinline River (a tributary of the Pelorus). He purchased large areas of sheep run country in Marlborough and in 1857 he purchased a block that extended from the Marahau estuary to the stream. He owned the land for at least 30 years before it was sold to a succession of owners and it finally became crown land and part of the Park in 1965.
Having a rich estate he was well known for his gifts to various educational institutions and was the benefactor for several scholarships. He is remembered for paying for part of the historic chain-link fence along Rocks Road in Nelson (the piles for Haven Road having come from Marahau), but he is also known for bringing in weeping willow to New Zealand (from Napoléon Bonaparte's grave in the Canary Isles), for growing the salmon that were introduced to the Motueka River and for advocating the building of local railways. Perrine Moncrief was one who supported his life being remembered in the naming of Tinline Stream.  Ironically, there is nowhere in the Park named for the woman who was instrumental in its formation.