Like most people, Laine and Andrew Harding like to keep their backyard in order. But when your backyard is a national park there is a lot of work to do.
The Nelson couple are tireless volunteers. Living on their yacht in the park for weeks on end they love to get their hands dirty to help the conservation efforts underway. "We are walking every day in the park so we may as well do stuff. We are always only 30 minutes away from home and a cup of tea," says Laine.
Andrew reckons he's spent 50 years mucking around in boats in the Abel Tasman. "The Abel Tasman has given us a huge amount of pleasure. Our kids have grown up on the beaches and tracks and now we are in a position to make a difference," he says.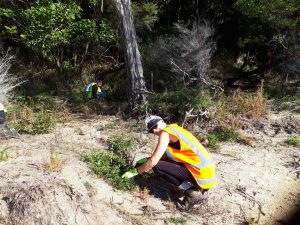 Laine grew up in Invercargill, and came to this region as a first year school teacher, spending her career working predominately with special needs children.  Andrew worked in the motor trade. When they both retired around 10 years ago they looked for volunteering opportunities.
Their first job was trapping on Fisherman Island, which they still do. A call in 2012 to Project Janszoon's Devon McLean saw them involved in a penguin survey.  They had already pin-pointed around 40 burrows on the island and were able to work with the surveyors to find even more. "We've kept an eye on those burrows over the years. I believe in 2019 they have been fairly heavily used which may be a good sign for blue penguins," says Andrew.
They also work with Project Janszoon's Helen Lindsay weeding, removing gorse, and planting at Anchorage and Apple Tree Bay. "It has made a huge difference. Both of them were covered in gorse not long ago. We had a bit of work to recover after Cyclone Fehi but they are both looking good now," says Andrew.
Add to that, they are line leaders for the Abel Tasman Birdsong Trust running a trapping team of 12, and they help with wasp control.  The pair are also Trustees with the Tasman Bay Guardians, Andrew is Commodore of the Tasman Bay Cruising Club and they both volunteer for the Cancer Society.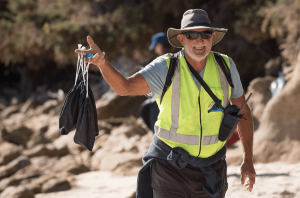 "All in all we are quite busy," says Andrew. Throw in five children, 12 grandchildren and 1 great grandchild and that might be a bit of an understatement.
Laine says volunteering gives them a great feeling of satisfaction and they see a lot of their work as complementary. "The marine space is close to our heart and the Tasman Bay Guardians mirror what Project Janszoon is doing in the education space. We've put 800 kids through the programme already, schools are lining up to be involved."
Andrew's role as Commodore of the Cruising Club is also a way of getting out bio-security messages to yachties who spend time in the park. Andrew admits he earbashes everyone about the Abel Tasman and how to keep it free of unwanted predators.
"The thing for us is the birds. There has been a huge change over the years and we now hear bellbirds on the mainland. The dawn chorus is now exceptional at Anchorage, it almost rivals Adele," says Laine.
The Abel Tasman Birdsong Trust's Abby Butler says Laine and Andrew give an incredible amount to the park. "They are such great advocates for the overall conservation of the Abel Tasman, and enthusiastic and tireless volunteers," she says.
For their part, Laine and Andrew say they feel grateful they are in a position to contribute and they are at pains to mention the great work lots of other people are doing as well.
"We just love it. The more we have done, the more you feel you can do. We have been inspired by the Plowman's who funded Project Janszoon.  If more wealthy people contributed as the Plowman's have we could make an even bigger difference."