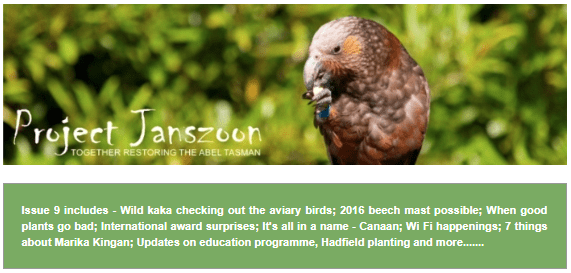 KAKA CALLING IN THE SUITORS
Wild kaka have been heard near the Wainui aviary where four female birds are awaiting release into the Park. The female kaka were transferred to the Park from Te Anau on 30 September. They were accompanied on their trip to the Abel Tasman by a representative of Ngai Tahu and welcomed in a moving powhiri at Onetahua Marae.
The powhiri was an opportunity for the three iwi of Manawhenua ki Mohua, Ngati Tama, Ngati Rarua and Te Atiawa to accept guardianship of the manu (birds) and welcome them home.
The female kaka come from existing captive populations and have been raised in Te Anau, Dunedin and Invercargill. When they are released they will join the few remaining wild kaka in the Park that are thought to be all male.
Project Janszoon aviculturist Rosemary Vander Lee says volunteers have been visiting the kaka daily to ensure they have enough food as they acclimatise. "We have noticed one of the birds appears to be a bit of a loner, not mingling with the other birds, but she is eating well and the plan is to monitor her closely after release. What is really exciting is that a wild kaka was heard above the aviary and the females responded by croaking back so the males are showing an interest," she says.
The birds will be released into the wild early in November and it is hoped they will breed with the remaining wild kaka and begin to re-establish a kaka population in the Park. This will be the first of a number of kaka releases over the next few years.