One of the country's rarest animals, a Nelson green gecko, has been spotted hanging out in the Abel Tasman National Park.
A contractor from NRL (Native Land Restoration) said he was weeding in the park for the Tasman District Council alongside Project Janszoon staff recently when he came across the gecko near Awaroa.
"I was just working away then spotted the gecko who was just sitting on a branch on the forest floor, I snuck up on it thinking it would dive away any minute and it just sat there."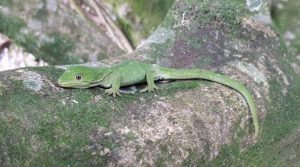 He had heard about the Nelson green gecko, but despite working outdoors for most of his life, he had never seen one.
"I didn't know much about it, but I was pretty sure it was a native species. I knew it was something quite special and different."
He said it showed the control work done by the Department of Conservation, Tasman District Council and countless volunteers was making a difference in the national park.
"It was quite special, it is one of the lovely things about working in the conservation field is that you come across things like that occasionally that you just wouldn't see normally."
Department of Conservation biodiversity ranger Ivan Rogers​ said the Nelson green gecko, Naultinus stellatus, were cryptic and arboreal, which meant they lived in trees and were unlikely to be seen unless they were on the ground which had been the case in this sighting.
The gecko came in two colour forms; the Sandy Bay colour morph which was plain green with light markings, as seen in the Abel Tasman and the Nelson Lakes colour morph which was heavily patterned and therefore more camouflaged.
Rogers said they were found in Golden Bay through to West Coast, Nelson Lakes and Nelson itself. But they were "far from common" and were in decline like most native lizard species.
When it came to predators, "everything was up against them". Rogers said they were targeted by natural predators like kingfishers, herons and weka and were also eaten by introduced predators like rats, stoats, mice and hedgehogs.
People often realised they were seeing something "out of the ordinary" when they spotted a bright green gecko and Rogers said they usually got several reports a year from sightings in the Abel Tasman due to the high numbers of people visiting the park.
He said if people did encounter native geckos, they should not handle them as it could cause them to drop their tails.
"While it is a defense mechanism it will disadvantage them for quite a few years to come because it takes years to grow back and they depend on it as a fifth limb."
The Project Janszoon website said while the Nelson green gecko was known to live in the Abel Tasman, it was almost never seen.
Project Janszoon, a privately funded trust that was established in 2012 with the aim of restoring the park's ecosystems. It works alongside iwi, DOC and the community-led Abel Tasman Birdsong Trust to get rid of pests, weeds and bring back native birds and bush.
It said the Nelson green gecko was active during the day and feeding on moths and other insects which they find in the open country under kanuka or manuka scrub.
The small lizard had sticky feet which allowed it to walk anywhere and one of the loudest "barks" in the gecko world.